Simple design, Two-Way Switch Device, Green Tire Forming Machine is easy to operate for expanding and shirking functions.
Efficient forming process is easy to simplify to insert the air bag in the green tire.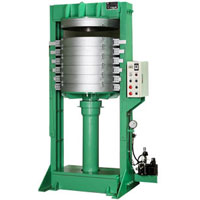 Tyre Curing Press with special design, 10" C Type Steel Column Main Structure, its stiffness is higher than traditional 4 cylinder ones.
Special design, Hydraulic Cylinder, the speed of up-down is faster than others. The timing can be shortening per cycle curing process.
Tyre Curing Press Machine equips with diameter 190mm of hydraulic cylinder shaft. The maximum clamping force is up to 50 tons. Working clamping force is up to 35 tons.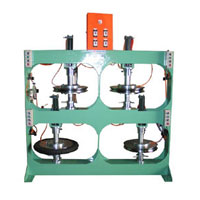 Applications: For use with 8"~21"motorcycle tires.
Accommodates four tire inflation molds at the base.
Four different sized inflation molds for differently shaped tires. (Tire mold specifications are designated by the customer)