Product Description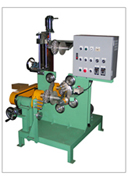 Motorcycle Tyre Wrapping Machine is suitable for tires and any other similarly shaped products.
Fully Automated Processing: Once the tire is placed on the locating wheel and the package wrap is tied in place, select settings for speed and press the fully automated button to activate the packaging process.
Flywheel Gap Automatic Upward Detent:Once the tire is packaged a flywheel automatically moves the tire upward and fixes it in a position that is easy for the operator to access and remove the tire.
Package Wrap Replacement Made Simple: The structure is especially designed so that when it's time to replace the package wrap there's no need to disassemble any part of the machine, saving replacement and wrap tension adjustment time.
Package Wrap Tensioner: The operator can decide the elasticity of the package wrap and adjust the tension accordingly.
Package Wrap Overlap Width Control:The operator is free to decide to what width the package wrap should overlap and adjust accordingly.
The process of packaging can include simultaneous application of labels indicating tread center and trademark.
2 motors design, including gear motor and brake one, to drives flywheel and wrapping movement simultaneously, to ensure wrapping process smoothly.
Production capacity counter, Flywheel Speed Tuner, Wrapping Speed Turner, and Wrapping Time Turner are digital input, rather than analogy one.
Motorcycle Tire Wrapping Machine operator can easily operate two machines at the same time.
Product Specifications
SC-TWM-VT-MCSC-1A
Tire Type Applicable
Motorcycle Tire / Scooter Tire
Tire Size Applicable
8""* ~ 21"
Wrapping Tape Size
Ø180O.D.mm ×Ø15I.D.mm × 90Widthmm
Brand Tape Size
Ø125O.D.mm ×Ø75I.D.mm × 50Widthmm
Tire Wrapping Speed
8 ~ 14 Sec. / Per Piece
Drive Motor
1 HP × 6P Brake Motor
1/2 HP × 4P × 1/15 Gear Reducer
Compressed Air Pressure
Max. 7 kgf/cm 2
Power Supply
AC 220V/380V × 50/60 Hz × 3Ø
Machine Dimensions
1400Lengthmm × 1400Widthmm × 1750Highmm
*The Max.Width of Packaging Tape for 8"Tire is 65mm.
This is the detailed information for Motorcycle Tyre Wrapping Machine. The information includes model, name, description and specification for Motorcycle Tire Wrapping Machine. Related Keywords : Motorcycle Tire Wrapping Machine, Motorcycle Tire Wrapping Machines, Motorcycle Tyre Packaging Machine, Motorcycle Wheel Wrapping Machine, Motorbike Tire Wrapping Machine, Motorbike Wheel Wrapping Machine, Motorcycle Tire Machine, Tire Machine. Please send your Inquiries for Motorcycle Tyre Wrapping Machine to us. We will contact you soon. Please also check out the related product categories below.